Paolo Girardi

Interview with Paolo Girardi, an Italian artist "born by chance", as he himself tells.
Painting "covers for my friends who played in metal groups such as RIVIERA or ASCOLI", Paolo became a well known painter in the international heavy metal music scene.



Connect with Paolo Girardi: https://www.facebook.com/paolo.girardi.12
Interview produced by: Associazione Culturale 4LLO
---
LOBO, 
an interview with Kent Lavoie by Lana Gentry 2015 
Singer and songwriter Kent Lavoie, otherwise known as Lobo swept the charts in the 1970's while commanding the respect of industry giants such as Graham Parsons. Even today, his former... read more
---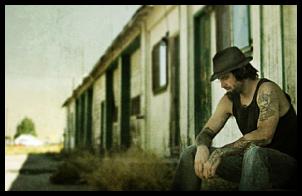 DAVID RICHARDSON

Born September 10, 1981, in Greeley Colorado, raised in Loveland Colorado, David began drawing and sculpting at a very young age. He was brought up in a home where art was highly accepted and his creative mind had free reign. He began creating creatures of the unknown and unseen while still in elementary school. Then, in high school, he started working in art studios around Loveland where he was immersed in all aspects of sculpture and the lost wax process. Since then, David has been published in Amazing Figure Modeler Magazine, Churn an art & music magazine, Gothic Beauty Magazine, and featured on Keith Wigdor Presents Surrealism Now and has shown in many art exhibits. David's art is featured in both public and private collections throughout the USA, as well as England, Canada, Russia, Hong Kong, and Australia. His sculpture has even been recognized by the great and talented movie director, Guillermo Del Toro. David celebrates diversity through his art, working in many different mediums. He has worked with celebrities and even the Hell's Angels Motorcycle Club. Embracing life-death-rebirth, David's sculptures are very primordial in thought and have very powerful significance. David has dug down into his unconsciousness to unearth deep-seated emotions and thoughts, bringing them to the surface of his reality and giving them life and permanence on Earth.
read more
---
Dennis Larkins,

renowned for his set design and illustration work for bands including The Grateful Dead and The Rolling Stones, returns to Sacred Gallery with his new exhibition, "Road Trip to the Fourth Dimension." Larkin presents iconic images of America's cultural past, borrowing heavily from the aesthetics of the Atomic Age and the Golden Age of Sci-Fi, to present at once a critique of America's past, present, and past-futures. Aliens, mushroom clouds, and rocket ships mingle with the family unit through Larkin's unique painted sculptural reliefs that present depth and tangibility to his fantastic canvases... read more
---
Norbert H. Kox is an American outsider artist whose paintings display an unusual approach to religious iconography. His pictures are religious visions of the battle between good and evil, detailing spiritual scripts and examining the worship of various false icons.
Kox organises his compositions with pencil then employs a complex layering technique, depositing layers of vivid oils and watercolors. The final glazing of his paintings, combined with the strongly contrasted hues he uses, gives them a brilliant and translucent quality.
apocalypsehouse.com • facebook.com/Norbert.Kox
---
Erick De La Vega s a fine artist, photographer, and make-up FX artist. Concentrating primarily on his special effects work for the past 18 years, Erick has a host of project credits under his belt throughout the film and television industry (Thor, Real Steal, Cowboys and Aliens, Buffy the Vampire Slayer TV series, Angel TV series, Jeepers Creepers, Blade II, and Batman Dead End). His fine art paintings draw upon that work experience and showcase the ease of realism he achieves with airbrushed acrylics.

Trained at the New World School of the Arts and the Art Institute of Pittsburgh, Erick's work is influenced by the modern masters of dark, fantasy art like Frank Frazetta, Wayne Barlow, and H.R. Giger, as well as a mixture of his own Catholic upbringing and his obsession with Demons and the undead. Erick De La Vega's painted creations are otherworldly and yet eerily familiar. They expose the viewer to a horrific beauty that potentially awaits at the end of every darkened passageway. They are fearsomely compelling.
erickdelavega.com • facebook.com/ErickDeLaVega
---
Krawczyk Stanislav
is an artist hailing from the Ukraine. He tackles art in the most primeval form, scratching the darkness from his subconscious onto paper. Stanislav takes these tenebrous musings and manipulates them using modern technology with surprising results. This is raw, emotive, work filled with chaos and purpose, wherein you glimpse the artist's true self. It is a frightening window that reveals our gutteral instincts. Stanislav is for the art world what Black Metal is for music, primal, powerful, and pure.
hyaenagallery.com/stanislav.html • facebook.com/stanislav.krawczyk
---